News:

I've finished building and assembling the latest case mod. It's called Fossil, a Victorian-themed wood and brass case. It's running the latest AMD chip at 1.53 Ghz (though I'll probably overclock it to 1.8 Ghz or so). Quiet too. Take a look . . .

Introduction:

Okay. I admit it. I have a problem.

It began during a time when there were no games out. I had just installed a second PC in my home (taking the low-cost/overclocking approach). I hit various overclocking sites from time to time and I ran across a collection of case modifications. "Wow, that's cool!" was my initial thought.

The underground world of case mods draws striking parallels to those of the car modification world. In fact, a number of case modifications use "technology" developed in the car world: flame paint jobs, neon lights, and cooling methods. Since cars have always been a method from getting me from point A to point B, I really hadn't been interested before now. It also took a certain degree of comfort with the hardware. I'm more of a software guy, and I hadn't put together a box from scratch before this year.

In some respect, putting together my current PIII-550E (overclocked to 800 Mhz) started it off. I ended up putting in extra cooling and doing some practical modifications, which took a certain bravery on my part. Tearing the plastic off the CPU not only voided the warranty, but freed my soul in some indescribable way. For more overclocking details, take a look at this article.
The machines:


Fossil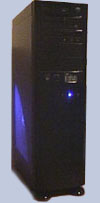 None More Black




Lego Inside




Lego Case
Case Mod Sites:
Virtual Hideout
Gideon Tech
Visitors: 57669
Hits: 65284
Your hits: 1